The Driving Force takes anyone who has cancer and is registered with a GP in Bonnybridge, Denny or Banknock to hospital appointments for FREE.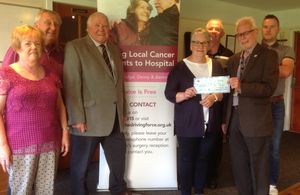 The Peter Shaw Trophy
Aug. 19, 2019
Many thanks to everyone at Bonnybridge Bowling Club who helped raise an incredible £1530 at the Peter Shaw Trophy is run each year with many bowlers taking part – it goes on all day and in between times there are raffles etc. Everyone taking part has a bacon roll in the morning followed by lunch and a fish supper at night. We are especially grateful as we have been beneficiaries in the past!!!
Event:

Coffee morning

Many thanks to all those of you who helped run the coffee morning. We raised the amazing total of £950. As usual we had fantastic baking and a great atmosphere. If you brought family and friends to help please pass on our thanks to them. Thanks also to all those to attended and spent so generously and helped consume all the baking!

Bridget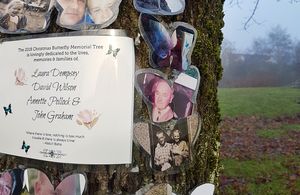 The Memorial Butterfly tree
Dec. 23, 2018
Many thanks to Linzi Barbour who organised butterfly memorial tree Banknock and to everyone who donated to The Driving Force in memory of loved ones that have passed away. Their names are written onto butterflies and a tree is decorated with them. The amazing total of £300 was donated to the Driving Force. A lovely way to remember, at this time of year, those we love who are no longer with us.
Event:

Bingo Night

Many thanks to everybody who came to our bingo night. it was an amazing success and raised over £1,600. We would like to thank St Alexander's church for the use of their hall, George the bingo caller, everyone who donated the fantastic prizes, Clark and Drummond who made delicious sandwiches and everyone who donated baking. Many thanks too to the fundraising team, especially Karen, who visited nearly 80 shops looking for prizes and Alison who worked very hard and donated the enormous elf!
Talks about our new services
Oct. 17, 2018
If you belong a local group in Bonnybridge, Denny or Banknock and would be happy for one of the volunteers to come and give a brief talk about our new services please contact us using the details on the site.
We are very proud of the fact that we are offering relaxation, gentle massage and reflexology to people who are struggling with cancer and a close family member. People who are having chemotherapy or radiotherapy can also have hair cutting, wig and scarf advice, nail cutting and manicures in their own homes.
We run periodic courses on mindfulness for people with cancer and their families to help make it easier to cope.
New services available
April 11, 2018
The Driving Force is very pleased and proud to announce that we have started offering more services to local people with cancer. These are: Podiatry/chiropody-nail cutting for people receiving radiotherapy and chemotherapy; they will continue to get this in their own homes until any nail changes due to their treatment have resolved. Hairdressing-in people's own homes monthly, if needed, during chemotherapy, or radiotherapy treatment or while their hair is still affected by these therapies. Massage/Reiki/Relaxation/Aromatherapy/Mindfulness Manicures/pedicures. If you would like more information or would like to see if you are eligible for these please leave your name and phone number with your Bonnybridge/Denny GP reception and one of our coordinators will be in touch.
Event:

Burn's supper

Many thanks to everyone who worked so hard to make our Burn's supper such a success. We would especially like to thank the Jolly Beggars who provided all the entertainment, Bonnybridge golf club for the venue and Sheena Weir for the meal. We raised £400. Our next event is a coffee morning at St Helen's church, Bonnybridge on 12th May.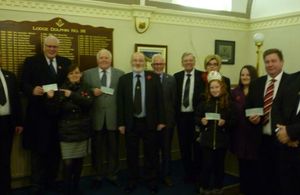 Event:

Charity bowls match

Many thanks to the Provincial Grand Lodge of Stirlingshire who had a charity bowls match and raised money for ourselves Bonny bridge Gala committee, Bonny bridge boys football club and Bonny bridge historical society.
Event:

Bingo Night

Well done to the fund raising committee for all their hard work organising our very successful Bingo night - they raised over £1600! We would like to say thank you to all the businesses and people who kindly donated prizes thank you to the committee and supporters of The Archie Russell Centre for all their help thank you to the Bridge Inn who donated the catering thank you to all who baked and donated refreshments thank you to our excellent Bingo caller and a great big thank you to everyone who attended it was a really fun night.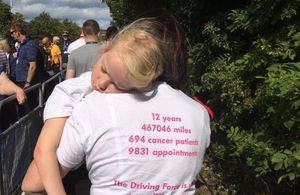 Forth Bridge Crossing
Sept. 5, 2017
Many thanks to Judith Fraser and everyone who supported and sponsored her. She raised an amazing £868 walking across the new Forth Crossing.
Anybody with cancer who is registered at either Bonnybridge, Banknock, Denny Cross, or Carronbank Health Centre can use our drivers to take them to and from hospital appointments and treatment sessions for cancer
Information for patients
Everyone involved in The Driving Force is a volunteer. Find out how you can get involved.
Get involved
Scottish Charity Number SC036792